1. Summer Date: The color block Jumpsuit
The black dress is a winter fashion essential—and the patchwork jumpsuit is the perfect summer equivalent.
Style an color block jumpsuit, such as this wide leg style with a sweetheart neckline,
and sexy cutout detailing—with minimal gold jewelry,
for a fresh and fashionable outfit that's fantastic for wearing on summer dates.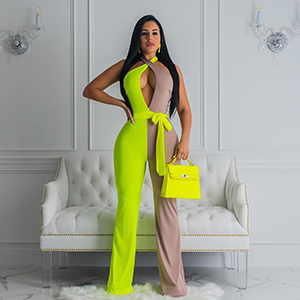 2. Fashion Weekend Outfit: Off the Shoulder Jumpsuit
We love off the shoulder styles for summer,
and this casual solid jumpsuit for women hits all the fashion check boxes.
The pleated style is super flattering to every figure,
and the wide leg cullotte style is right on trend this season.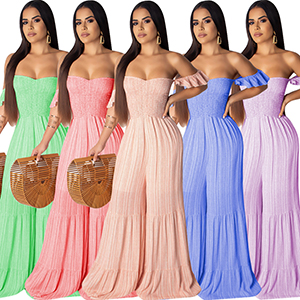 3.Summer daily Outfit: Polka Dot Jumpsuit

Here's another way to wear a polka dot jumpsuit this summer, that works for all ages.

A long sleeved polka dot jumpsuit that's belted at the waist, looks adorable for weekend days,

and can take you everywhere from brunch with girlfriends,

to a day of visiting museums and art galleries, or shopping at the antiques market.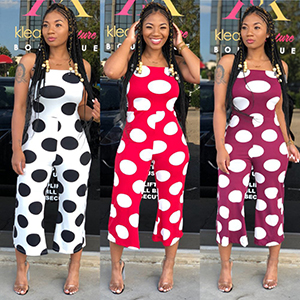 4.Chic Sightseeing Travel Outfit: striped bodycon Jumpsuit
Will you be traveling near or far this summer, and need a sexy,
comfortable outfit for sightseeing days? Maybe the striped jumpsuits with lace will show your best body.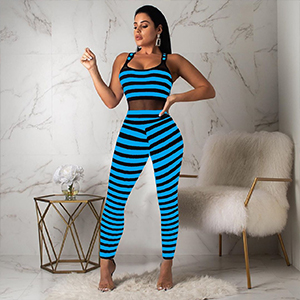 5.Summer casual look Outfit: Black Jumpsuit

How chic is this pretty summer outfit in a black jumpsuit?

The jumpsuit for women is a must-have summer dressing piece this season, and has styled a pretty, black, off the shoulder style.

A printed dark floral clutch adds drama and visual interest to the one-color jumpsuit, with strappy platform sandals also helping to dress it up.

You could easily wear this outfit for so many occasions this summer, from garden and pool parties, or out for cocktails and dinner.